You are hereBlogs / Heather Rice's blog
Heather Rice's blog
---
Monday at 1 p.m., I am joining hundreds of people of faith across the nation to fast for 23 hours, symbolizing the 23 hours per day that tens of thousands of Americans, including children and the mentally ill, are warehoused in solitary confinement.
The fast will be held in conjunction with the first-ever Senate hearing on the use of solitary confinement in the U.S. federal prison system. 
Claims that the bin Laden raid was based on information provided by detainees has revived the debate over the effectiveness of the former Administration's "enhanced interrogation program" (i.e. torture).
A number of high profile officials invested in the former Administration's torture program have jumped on the opportunity to use Osama's death as an opportunity to redeem their grave missteps. Former lawyer in the Office of Legal Counsel, Jonathan Yoo, implied in the National Review that bin Laden's death was made possible by intelligence gained through waterboarding and that President Obama's success is due "to the tough decisions taken by the Bush administration."
Unfortunately, not only are such claims made without shame, they are made without merit.
"When Jesus looked for an analogy of suffering followed by joy, he said in John 16:21, 'Whenever a woman is in labor she has pain, because her hour has come; but when she gives birth to the child, she no longer remembers the anguish because of the joy that a child has been born into the world.' Ms. Lumsey described how shackling robbed the divine joy from bringing her son into the world."
Forty states in our country do not have a prohibition against shackling women prisoners during childbirth.
This is a shameful practice that strips away the dignity from the sacred moment of welcoming a new life into the world and increases danger to the health and well-being of both the child and mother. My own state, Virginia, is one of them.
In our Christian faith, the sanctity of human life is established in Genesis 1:27: "So God created man in His own image; in the image of God He created him." In particular, the newborn child bears within himself the divine image, the image of the Christ child. Imagine Joseph frantically preparing a stable for pregnant Mary as the humble welcoming place for a new life. The human story behind Christ's birth demonstrates that every mother and every child should experience a degree of dignity in the moment of birth.
"Love your neighbor as yourself." The golden rule. As evangelicals, we know it by heart. However, the better question is: do we live it by heart?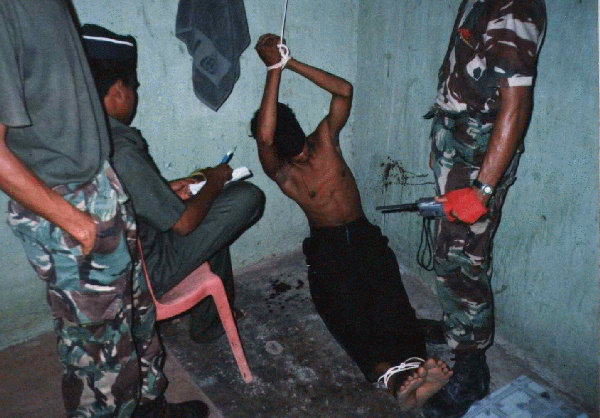 In 2008, a poll commissioned by Faith in Public Life and Mercer University revealed that close to six-in-ten white evangelicals in the South thought torture could be often (20%) or sometimes (37%) justified in order to gain important information. This compared to roughly half (48%) of the general public who believed that torture could be justified in a Pew Research Center poll conducted around the same time.
However, the poll displayed a shift in evangelicals' responses when asked using the "Golden Rule" argument against torture: the U.S. government should not use methods against our enemies that we would not want used on American soldiers. A majority (52%) of white evangelicals agreed. This movement represented a 14-point increase from the 38% of white evangelicals who initially said that torture is rarely or never justified.
In his new memoir, "Decision Points," President Bush states that he responded, "Damn right," when CIA director George Tenet asked for permission to waterboard alleged al Qaeda mastermind Khalid Sheikh Mohammed in early 2003.
In a sermon entitled, "Repentance, Forgiveness and the Gift of the Spirit," Pastor John Piper of Desiring God ministries in Minneapolis, described forgiveness as letting go of real offenses. Piper explained, however, that if there is no standard to offend against or no expectation to violate, then there can be no forgiveness. Thus, "What looked like grace turns out to be the undermining of grace by the undermining of forgiveness."
Shortly after President Obama assumed office, he stated he wanted to "look forward, not back," on the Bush administration's interrogation policies. He asked Americans to "turn the page" on this painful chapter of our history. Unfortunately, most Americans, including Christian Americans, have readily accepted this proposal. The consequences have been tremendous. Now, President Bush may freely state that he used tactics unquestionably categorized as torture. Now, in my own conversations with other young Evangelicals, I find that our "standard" of what constitutes torture has become relative and driven by fear. We are tempted to "let go" of very real offenses (including waterboarding, shackling and stripping) committed in our name, not because we have asked for forgiveness for these acts, but rather because we have blurred the standard so far that our history has become "justified." What looked like an extension of grace to the previous administration has turned out to be the undermining of grace by the undermining of forgiveness.